We offer an array of accessories to expand your system and protection for your home or business. Check out just a few of the additional accessories that can be added to your current or new system. Don't forget to check out our Facts page!
Honeywell's 5800PIR Series of Wireless Motion Detectors are high-performance, easy-to-install sensors featuring sleek, compact designs that are ideal for applications where aesthetics or discretion are critical. On the 5800PIR and 5800PIR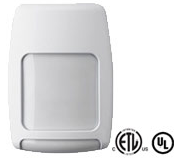 -COM, PIR sensitivity and temperature sensing can be enabled via programming locally or from the central station. Other notable benefits include fewer service calls thanks to a long-life battery and empty cases, which allow designers and end-users to custom-paint the motion detectors to match any residential or commercial setting. The 5800PIR blends perfectly with all of the 5800 Series family of sensors for a seamless look.
 Features
Faster and Easier to Install
Specific features that contribute to this benefit include:
Automatic walk test
Flashlight walk test
Remotely programmable sensitivity
No mounting height adjustments
Circuit board does not need to be removed to install on wall
Ceiling and wall mounting brackets help to easily direct the pattern where needed
7′-9′ mounting height means fewer restrictions than current offerings (6.5′-7.5′)
Fewer Service Calls
Incorrect installation of equipment or changing requirements of the site (new pets) is no longer a problem
Automatic walk test mode turns on the walk test LED for ten minutes when cover is opened and closed or when a battery is installed. Walk test mode can also be triggered with a flashlight on the 5800PIR and 5800PIR-COM.
Remotely programmable – Longer battery life
End-user replaceable batteries
Black bug guard means 15% fewer false alarms due to bright lights directed into the PIR – UV protected lenses (on all models except 5800PIR-RES)
Smaller/Better with a Family Look
The new PIRs are 50% smaller than the 5890PI. Also, dealers can install one family look whether they use hardwired, V-Plex or wireless in order to complete the job. In addition, if the dealers need to mix and match sensing technologies, the look of the installation is consistent.
Less Costly Maintenance
Only one battery to replace.
Decreased Liability
Self test—alerts end-user and central station if the motion detector stops functioning (except 5800PIR-RES)
Optional Cold Temperature Alert
(< 45° F) warns when temperatures are approaching the freezing point (except 5800PIR-RES).
In almost all cases, your security / life safety system relies on proper operation of the telephone line to reliably communicate alarm signals to the central station. With a VOiIP or digital telephone phone service, your alarm system may be unable to consistently and reliably send alarm signals to the central station due to interruption of service or tampering of the phone line. Alarmnet is the solution to this. Watch the video below (or wherever it is) to learn more about Honeywell's Alarmnet solution.
Honeywell's 5834 Wireless Keys feature sleek, compact designs, LED confirmation that transmission has been sent, tactile, recessed keys that reduce false alarms and more. There are three versions: the 5834-2 two-button remote, the 5834-4 four-button remote with eight programmable functions, and the enhanced 5834-4EN four-button, which features a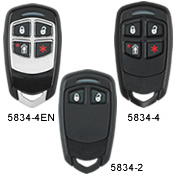 stylish plated, bezel design in addition to the programmable function keys. All models are compatible with Honeywell's 5800 Series wireless products.
The feature-rich 5834 Wireless Keys help security dealers set their offering apart while providing end-users with an extra level of convenience, comfort and peace of mind.
Features
LED indicates:
Transmission was sent
Low battery condition
Encryption mode
Tactile keys are recessed to deter false alarms
Icons for simple, easy-to-understand functionality
Supports both Standard and High-Security (Encrypted) modes
Long-life lithium batteries
Available in three versions
The powerful 5808LST is a combination wireless photoelectric smoke and heat detector that trips when temperatures reach 135º F. Ideal for difficult to wire locations, situations where room aesthetics are critical or where hazardous materials exist, the 5808LST provides the ultimate in installation flexibility.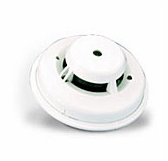 Remarkably cost-effective, the attractive, low profile unit blends easily with any décor and provides benefits rarely found in smoke detectors in this price range. Smart Check™ remote maintenance reporting automatically alerts the central station when it is in need of service, and built-in drift compensation continuously corrects sensitivity variances caused by dust. The 5808LST is UL 268 listed for use in both commercial and residential applications.
 Features
Low profile housing
Extended battery life – Two 3V Lithium
Automatic drift compensation
Smart Check™ – pre-alarm maintenance signal
Test/alarm silence button – Immediate signal 2.5 sec delay horn activation
Field replaceable chamber
Heat Detector – dual 135° thermistors
Low temperature alert signal
Temporal Code 3 sounder
Pre-Low battery signal to central station (if applicable) seven days prior to horn chirp
UL 268 – Commercial and Residential
5800CO Carbon Monoxide Detector
The 5800CO is a 3V battery powered wireless carbon monoxide (CO) detector intended for use with Honeywell alarm systems that support 5800 Series wireless devices. It provides early warning when its electrochemical sensing technology measures carbon monoxide levels in the air. The 5800CO is specifically designed for system operation and is fully listed to UL 2075 as a system supervised detector.* It contains a piezoelectric horn which generates the ANSI S3.41 temporal 4 pattern in an alarm condition.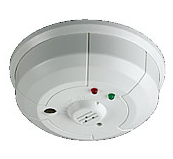 The detector consists of an electrochemical carbon monoxide sensor assembly coupled with a wireless transmitter. The transmitter can send alarm, trouble, end-of-life, tamper and low battery condition messages to the alarm panel.Since there are no holes to drill or wires to run, you can preserve the beauty of the home or building while protecting its occupants from harmful carbon monoxide gas. The 5800CO is an ideal carbon monoxide detector for difficult to wire locations, applications where room aesthetics are critical or where hazardous materials exist.
Key Features
Electrochemical Sensing Technology
Electrochemical detectors are the newest, most refined CO detectors available and provide the most accurate measurement of CO concentration obtainable. They can take readings from low levels that may be hazardous over long periods of time to high concentrations that present an immediate danger.
Local Sounder
A built-in piezoelectric horn generates the ANSI S3.41 temporal 4 pattern in an alarm condition. The local sounder will also alert the end-user of other conditions such as low battery, detector trouble and end-of-life.
LED Status Indicators
Dual LEDs provide local visual indication of the detector's status–including normal operation, alarm, low battery, trouble and end-of-life.
End of Life Timer
When the detector has reached the end of its life, the detector will send a trouble signal to the panel. This indicates that the CO sensor inside the detector has passed the end of its life and the detector needs to be replaced. The detector's lifespan is approximately six years from the date of manufacture.
Full Supervision
 The 5800CO is fully supervised to monitor for low battery, case tamper and trouble conditions.
Test/Hush Button
This dual-purpose button allows the end-user to perform periodic testing of the detector. In the event of a CO alarm, this button will silence the local sounder alarm for a five minute period. Note: the Hush feature will not operate at levels above 350 ppm (parts per million) carbon monoxide.
Versatile Mounting
Whether you choose to affix the detector to the ceiling or a wall, mounting is made simple with the enclosed hardware. The mounting base has large mounting ports, which accommodate drywall anchors for easy surface mounting.
Tamper Protection and Tamper Resistant Element
The detector has a built-in tamper switch that can communicate back to the control panel in the event it is removed from the base. For an added level of security, the detector also includes a tamper resistant element that prevents removal from the base without the use of a tool.