Honeywell's feature-rich 6280 Color Graphic Voice Touchscreen Keypad features a high-resolution 7″ widescreen TFT display that doubles as a digital picture frame. There is a choice of silver and white color schemes, three language options and voice annunciation of alarm conditions. The new intuitive user interface features icons and menus that make system operation easy to navigate. The 6280 uses the same icons as Total Connect 2.0, helping to reduce end-user training and costly false alarms.
The digital picture frame and video viewer features let end-users create slideshows and view home movies on the brilliant, high resolution TFT display. Homeowners can customize the slideshow with family photos, vacation pictures and more.
The choice of two color housings and three languages (ideal for homes with multilingual members) Silver blends perfectly in stainless steel kitchens and garages. White, a popular classic choice, blends seamlessly with lighter décors.
*Voice annunciation option in English only.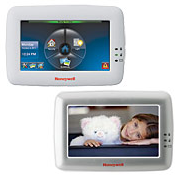 Features
High-resolution, 7″ widescreen 640 x 480 TFT display
16 million colors capability to display vivid images
Intuitive touchscreen display with icons and menu driven prompts (English only)
Digital picture frame, slideshow or home movies through standard SD card
Available in two colors :
Silver: Ideal for kitchens with stainless steel appliances, garages and basements
White: Blends seamlessly with most lighter décors
Three languages can be displayed:
English
Spanish (Latin American)
French Canadian
Voice annunciation of type and location of alarm (English only)
Family message center that lets end-users record and playback messages
Entry/Exit countdown displayed
Authorized end-user can easily add or delete user codes
View zone lists with status
End-user can quickly and easily bypass zones
Add wireless technology to any installation with Honeywell's 6150RF keypad. It offers the unbeatable combination of attractive, convenient features and competitive value in a single, quick-install package.
Features:
6150 Fixed English Keypad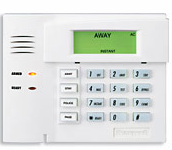 Built-in 16-Zone wireless transceiver
Compatible with 5828 and 5828V wireless keypads
Single four-wire run is all that's required
It is the ideal choice where wireless keys are to be used.
Fully compatible with all 5800 wireless devices including bi-directional
Supports encrypted operation of the 5804E* and 5804BDV four-button keys
On-board single relay provides a low cost solution for opening garage doors.
Stylishly Designed
Sleek white design blends with any décor
Contoured, removable door lets customers customize the keypad for the look they want
With the door closed the keypad has a smooth, unobtrusive appearance
Easy to Operate
The fixed English display is easy to read, with large characters and simplified descriptions
The sounder beeps to help identify security system status
Comfortable soft-touch keys labeled with simple commands are illuminated for nighttime visibility
Four larger function keys can be programmed for one touch operation and are accessible even when the door is closed
Honeywell's Tuxedo Touch is a 7″, high-resolution graphic touchscreen that functions as an integrated security system, home controller, camera viewer and digital picture frame in one. It is a cost-effective way to seamlessly integrate security with cameras and Z-Wave® enabled thermostats, lights, locks and shades.
A built-in web server lets end-users control Tuxedo Touch anywhere in their home and view live video on up to four local cameras per screen on an iPhone®, iPad®, Android™, BlackBerry®, Internet TV or any compatible wireless mobile device.* Use either Wi-Fi or Ethernet to connect to the premises LAN.
Whether controlling the security system or other functions within the home, the large graphic icons—which also match the Total Connect interface—simplify operation. Homeowners can receive important alerts about events remotely with Honeywell Total Connect™ Remote Services.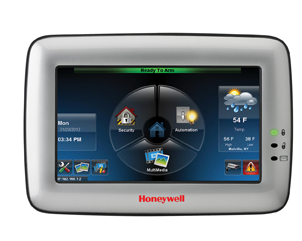 A digital picture frame feature can be managed by end-users with the simple insertion of an SD card—letting them create cinema-quality slideshows right at the Tuxedo Touch display.
A choice of white or silver/black blend with any décor. Tuxedo Touch is available in English, French Canadian and Spanish language options, with voice annunciation of alarm status (English only).
7″ color widescreen display
800 x 480 resolution TFT display with 16 million colors
Centralized control of security system, video cameras, Z-Wave enabled thermostats, lights, locks and more from your Tuxedo Touch
Use either Wi-Fi or Ethernet to connect to the premises LAN
View up to four IP cameras at once on the Tuxedo Touch display
Built-in web server allows for local control of your Tuxedo Touch system through any Wi-Fi enabled device (smartphone, iPad, iPhone, PC, Internet TV)
Intuitive, easy to use interface with large icons and menu driven navigation
Icons match Total Connect interface to help up-sell remote services
Z-Wave controller built-in
Supports up to 232 Z-Wave devices
Most Z-Wave enabled thermostats, locks, lights and shades are compatible (see compatibility charts)
Manage energy costs with customized scenes that can control Z-Wave enabled thermostats and lights based on system events or time and day (up to 10 scenes)
View your local weather right on the keypad
Customizable displays:
Dealer logo and company information can be customized on the homescreen
Digital picture frame slideshow adds around the clock end-user value
Video player creates digital billboard or training vehicle for your business needs
Voice annunciation of the type and location of alarm so end-users can act quickly in an emergency (English only)
Three different languages can be displayed (English, French Canadian and Spanish)
Family message center lets users record and playback messages
Available in two colors (white and silver)
Embedded training videos inside the keypad
*iPhone and iPad are registered trademarks of Apple® Inc. All other trademarks are properties of their respective owners.
Honeywell's 5800PIR Series of Wireless Motion Detectors are high-performance, easy-to-install sensors featuring sleek, compact designs that are ideal for applications where aesthetics or discretion are critical. On the 5800PIR and 5800PIR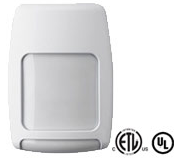 -COM, PIR sensitivity and temperature sensing can be enabled via programming locally or from the central station. Other notable benefits include fewer service calls thanks to a long-life battery and empty cases, which allow designers and end-users to custom-paint the motion detectors to match any residential or commercial setting. The 5800PIR blends perfectly with all of the 5800 Series family of sensors for a seamless look.
 Features
Faster and Easier to Install
Specific features that contribute to this benefit include:
Automatic walk test
Flashlight walk test
Remotely programmable sensitivity
No mounting height adjustments
Circuit board does not need to be removed to install on wall
Ceiling and wall mounting brackets help to easily direct the pattern where needed
7′-9′ mounting height means fewer restrictions than current offerings (6.5′-7.5′)
Fewer Service Calls
Incorrect installation of equipment or changing requirements of the site (new pets) is no longer a problem
Automatic walk test mode turns on the walk test LED for ten minutes when cover is opened and closed or when a battery is installed. Walk test mode can also be triggered with a flashlight on the 5800PIR and 5800PIR-COM.
Remotely programmable – Longer battery life
End-user replaceable batteries
Black bug guard means 15% fewer false alarms due to bright lights directed into the PIR – UV protected lenses (on all models except 5800PIR-RES)
Smaller/Better with a Family Look
The new PIRs are 50% smaller than the 5890PI. Also, dealers can install one family look whether they use hardwired, V-Plex or wireless in order to complete the job. In addition, if the dealers need to mix and match sensing technologies, the look of the installation is consistent.
Less Costly Maintenance
Only one battery to replace.
Decreased Liability
Self test—alerts end-user and central station if the motion detector stops functioning (except 5800PIR-RES)
Optional Cold Temperature Alert
(< 45° F) warns when temperatures are approaching the freezing point (except 5800PIR-RES).
In almost all cases, your security / life safety system relies on proper operation of the telephone line to reliably communicate alarm signals to the central station. With a VOiIP or digital telephone phone service, your alarm system may be unable to consistently and reliably send alarm signals to the central station due to interruption of service or tampering of the phone line. Alarmnet is the solution to this. Watch the video below (or wherever it is) to learn more about Honeywell's Alarmnet solution.
Part of Honeywell's family of self-contained wireless controls, Honeywell's LYNX Touch 5100 features a bright, full-color touchscreen with graphic icons and intuitive prompts for easy operation. It features garage door notification and control, tornado alerts for U.S. and Canadian residents, Z-Wave® automation capabilities and advanced alarm communications.
Our Wi-Fi® module offers the lowest cost alarm communications/ remote services solution—saving installation time and reducing monthly operating costs. Whether used as back-up or primary, the advanced 4G radio finds the best signal (2G, 3G or 4G) in the area—improving longevity and maximizing installation opportunities.
These options give security dealers the flexibility they need to service all of their customers, whether they rely on mobile phones, VoIP or POTS lines. Honeywell's L5100 Connect app, provides consumers with the ability to use an iOS device to operate the system on premises.
The Z-Wave connectivity module lets installers integrate security, lighting, thermostats and more—for local and remote control. With Honeywell Total Connect™ Remote Services, users can control security, thermostats, lighting, locks, receive alerts and more from most smartphones, tablets and computers.